SCCJ Research Symposium
The beginning of the SCCJ Research Symposium dates as far back as 1976.
Ever since then, it has offered opportunities twice per year, once in Tokyo, and another in Osaka, where the latest of scientific findings can be shared. This is the most notable event for the domestic cosmetic scientists at which as many as 20 original papers are always presented, attracting an audience of about 500 scientists who gather to actively discuss about them. The paper considered most meritorious, receives the "Presentation Award".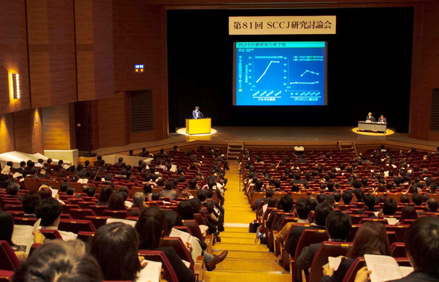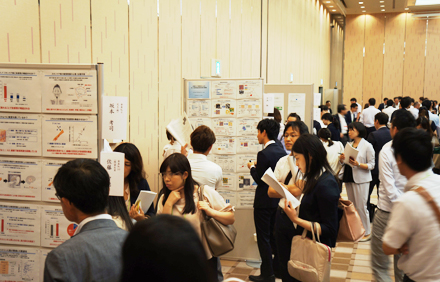 Journal of SCCJ
Ever since its launch in 1963, the Journal kept publishing seamlessly, and now distributed electronically. Other than original research articles and short research reports, review articles and reports on academic events also appear in the Journal. The Journal is peer-reviewed by the most distinguished scientists at the forefront of Japanese cosmetic chemistry to ensure its high prestige and quality. While most papers are written in Japanese, English articles are also accepted. Out of the research papers that have appeared in the Journal of SCCJ, outstanding papers are honored with Awards every year.
Seminars
What began as "Technical Symposium" back in 1962, carries on today as "SCCJ Seminar" held biannually.
Seminars targeted for next generation scientists and researchers of intermediate level, are carried out on specifically chosen topics by distinguished scientists from the academia and/or the industry, who would provide them with the latest findings in such topics, and also to take part in the discussions with the attendants following the Seminar.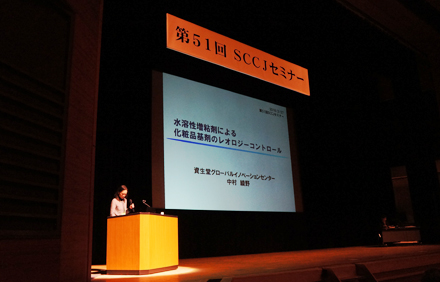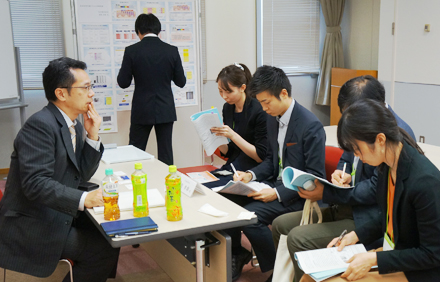 A Basic Course for beginners
This Basic Course intended mainly for the newly recruited employees who have just joined the industry, was set up around 1970, and held annually in both Tokyo and Osaka ever since. What started more than half a century ago attracting 162 attendees on its first attempt, has now grown to become a "must attend" event for anyone involved in the Japanese cosmetic industry to which a total of more than 1,000 beginners attend every year from Tokyo and Osaka.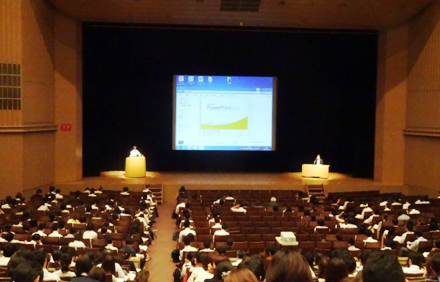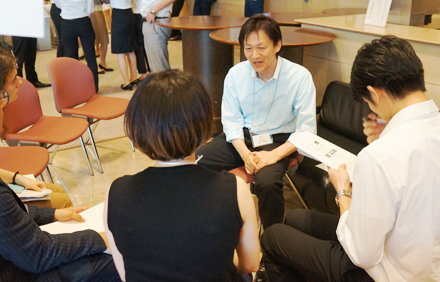 Tokyo round
Held annually, 3 days
Intended not just for the new-coming scientists to the cosmetic industry, but also for those with little experience in cosmetic science/research. Active distinguished cosmetic scientists are invited as lecturers.
Osaka round
Held annually, 2 days
Intended not only for the bench scientists, but for an audience of broader spectrum including those involved in marketing, R&D at large, manufacturing and sales to teach them the basic knowledge and skills required in the cosmetic industry.
How to present at international events "The IFSCC get-together"
We commenced this course in 2016 in order to encourage and support the cosmetic scientists who wish to present at international events but with little experience. Its main purpose is to gear up the scientists scheduled to present at an upcoming IFSCC Conference/Congress in autumn, and hence held every year in July. Know-hows on how to prepare attractive and effective PowerPoint slides and posters are offered along with tips on how to correctly pronounce English words that many Japanese have difficulties with as well as and coping with Q&A situations in general.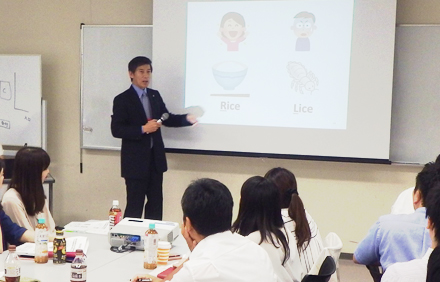 SCCJ Awards
Outstanding papers
Out of the research papers that appeared in the Journal of SCCJ, "The SCCJ Award" (most meritorious) and "Honorary Mention Award" (meritorious) are chosen and honored every year.
Presentation Award
Awarded to a paper at an SCCJ Research Symposium that was outstanding in terms of how it was presented and how much discussion it generated.
Cosmetic Ingredients and Technology Exhibition (CITE JAPAN)
Since its birth in 2003, CITE Japan, at first a biennial exhibition mainly dedicated to cosmetic ingredients, has now grown to also encompass containers, packaging, OEM manufacturing and a myriad of other cosmetic-related companies, with attendance on the rise at each event. The technical symposium where the raw material suppliers can present their latest technologies also attracts a big audience, making CITE one of the biggest and most influential exhibitions in Asia.